Credit Card Payment

We accept the following credit cards VISA, MASTERCARD, VISA Electron and Maestro.
(these last two card types must be supported by issuing bank)

Payment Gateway called 3D Secure is operated by ČSOB bank and will provide you with secure form. All of your information is protected with strong 256-bit SSL encryption before traveling over the internet. This makes doing business over the Internet even more secure than purchasing by telephone.

After you finish the order, you will be re-directed to ČSOB secure website where you fill in all needed card details. Please DEACTIVATE POP-UP BLOCKER when making the payment.If you receive positive reply then your order will be accepted, but if you get negative reply then your order could not be accepted (you will be given some reasons why this happened).

Your order will be processed only if your authorization was successful. Otherwise please contact me and ask for other options.
IMPORTANT
We do not charge your card immediately, but only when your order is ready for dispatch. Your authorization will be valid for only 7 days.
If you need to repeat your credit card payment, please use THIS LINK. Fill in your name, e-mail, then fill in the invoice number. If you do not have the invoice yet, please use order number; if you pay more invoices at once, use for example 5066869 for invoices 50668 and 50669), use your total amount stated in your order confirmation as invoice amount (or total amount shown on the invoice).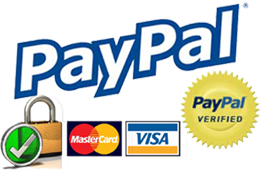 We accept payments by PAYPAL. Since we do not keep everything in stock and system cannot know exact weight of the parcel, we have decided to use PAYPAL invoicing system. You will receive the invoice as soon as we complete your order, just make sure that you fill in correctly your e-mail address, otherwise we will not be able to send this invoice to you. You will also see a total amount with real shipping costs and after we receive your payment we will despatch your order (we despatch non-EU orders on Fridays, EU orders on Tuesday/Wednesday and on Fridays). If we do not receive your payment within one week, we will cancel your order and you will be asked for a different payment method in case of future order. We believe this will help out to those people in the world who have a credit card but is not supported by 3D Secure system. If you have any questions, please feel free to ask me.
We do not accept PAYPAL payments from traders, if you wish to pay this way anyway, we will have to add 8% fee.

Bank Transfer

We also accept payments received by bank transfer. Merchandise is shipped upon receiving such a payment. Here are bank information needed for this kind of payment:
IBAN: CZ8603000000000276961961
BIC (SWIFT): CEKOCZPP
Bank : CSOB a.s.
Account holder: MODELIMEX S.R.O.